European Digital Commerce, powered by VTEX, took place on May 12, 2021, on the IC Events virtual events platform, and is an interactive online event dedicated to e-commerce. The main retail players participated in it.


Important speakers from different fields were present, such as IT, FMCG, SEO, etc. The conference is addressed both to businesses that already own a physical store and want to expand into e-commerce, as well as to online businesses and specialists in various fields. The participants got acquainted with the latest news in the field, and had the opportunity to network online, directly on the platform provided by the organizers.


There were various topics discussed, such as the challenges of omnichannel during the pandemic, about adapting to the new reality and about how a business can develop, especially at the moment, when e-commerce has evolved rapidly.
---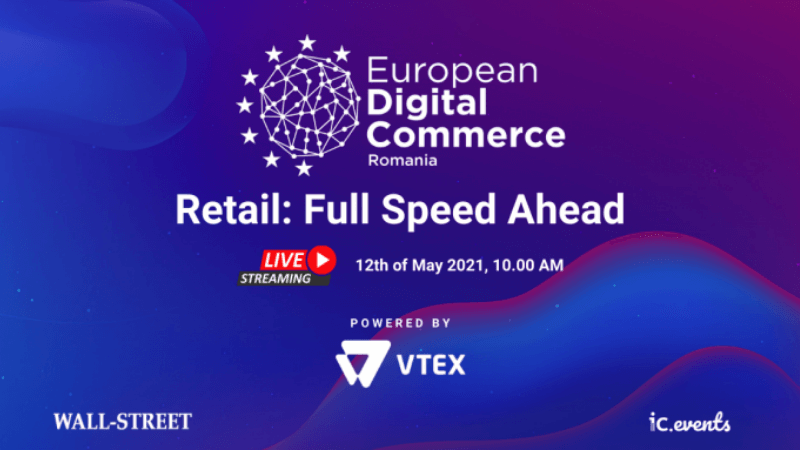 ---
Octavian Dumitrescu, CEO of CustomSoft, discussed how the last 12 months have unfolded, and how the needs of customers have changed during this time.


"Our company has grown quite a bit in 2020 and has pretty good premises in 2021. We have focused a lot on e-commerce, custom solutions and Artificial Intelligence, the three lines of business we have."


In 2020, CustomSoft saw an increase in the number of marketplace applications, mainly due to the accelerated growth of the e-commerce area globally. The marketplace is also a quick solution for companies to reach a wider consumer market, while simplifying their sales process.


Regarding the potential of the e-commerce market in Romania, Octavian states that "There are fears, delays, a lot of mistrust. I would encourage everyone to take the step, at least to get more information from the market so that they can form an opinion".


The year 2020 came with changes in the way the CustomSoft team works, but it quickly adapted to work from home, thanks to the well-developed procedures and the openness of the members.


Asked what are two of the decisions taken in recent years that have helped develop CustomSoft, Octavian mentioned opening offices abroad (CustomSoft currently has offices in Romania, UK, USA and Portugal), and concluding a partnership with VTEX.
---
To learn more about VTEX, we recommend you visit this page.
---
Are you ready to take your company to the next level? We can help you! Fill in the form and a consultant will contact you as soon as possible.
---