Numerous companies have started shifting towards the digital, especially since the pandemic, as a response to overwhelming customer demands. But this is just a small step towards a healthy and successful business, just going in the online is not enough. Companies have to take steps further towards implementing different strategies that will help them attract and maintain customers. One very useful way of reaching new potential customers is through multi-storefronts.
BigCommerce has recently announced that they are putting out a new feature, multi-storefront. This was one of their most requested features, and BigCommerce will help partners easily implement it.
---
What is multi-storefront in e-commerce?


Multi-storefront in e-commerce is a software that allows you to build multiple storefronts that are managed by a common admin panel and that share a database.
---
How does multi-Storefront work in BigCommerce?


Multi-Storefront (also named MSF) is what allows you to use a single BigCommerce store to power multiple storefronts. All settings are managed from one BigCommerce panel. Thanks to MSF, each storefront has unique:
domain
theme
web pages
categories
price lists
email templates
social media links, etc.
In BigCommerce, all storefronts share your store's catalog, and you can choose which products to appear on which storefronts. Also, the orders from all channels com in your BigCommerce orders area. The platform allows you to sort them by storefront.
---
Who can benefit from implementing multi-storefront?


Multi-storefront can help merchants who serve multiple segments (retail, B2B, B2C, wholesalers), and also those who have multiple brands.
Furthermore, depending on the business model, multi-storefront can work as a multi-region or cross-border solution.
---
Benefits of multi-storefront e-commerce


Multi-storefront is a great opportunity to expand your business in different regions. One of the most important benefits is that you can manage multiple stores from a single administration center (control panel). Though all storefronts have a common database, you can edit each one individually. This means that even if your customers shop on different interfaces, all their information is collected in a single place.
Also, there are more benefits, such as:
create dedicated storefronts for different locations;
target specific audiences;
grow into new markets with low effort;
create unique store designs for the audiences that you target;
implement language-specific stores;
reduce costs and streamline operations and workflows;
get better insights for traffic, customer preferences, and so on;
---
Features in BigCommerce's multi-storefront


We will present you some features that you can access and configure from the control panel:
Create and manage multiple BigCommerce storefronts thanks to a single control panel;
Set up web analytics for each storefront;
Set and manage default currency;
Apply and customize themes, widgets, page and email templates, web pages, scripts, and social media links for each storefront;
Filter sales reports by storefront;
Manage customer groups;
Create category – level discounts for specific groups of customers;
Use price lists for custom pricing;
Control product filtering settings;
Create storefront-unique categories and make products available on one or multiple storefronts, etc.
---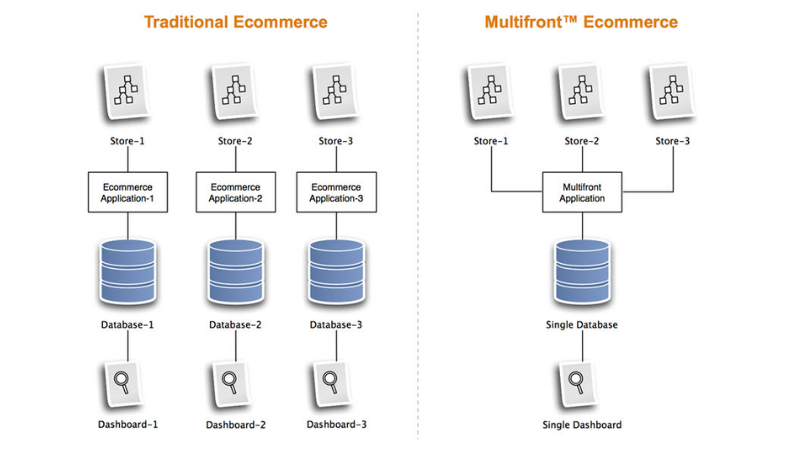 ---
Limitations


There are a few limitations in multi-storefronts by BigCommerce:
Each storefront can have up to 10,000 products, and each product can have up to 70 variants;
Storefront navigation can show up to 100 categories, and each category can have up to 1,000 products;
Stores can have up to 1,000 orders per day.
---
Tips and tricks on how to manage multiple stores from a single platform


1. Centralize your inventory database. This helps you see real-time updates across all your sites.
2. Centralize your order management. For the same reason as centralizing your inventory database, you should keep your fulfillment, shipping and customer care consistent across all stores.
3. Identify niches and target them with optimized content.
4. Set up a product information management system to easily track content across all stores.
5. Get an intuitive and flexible multi-storefront e-commerce software, such as BigCommerce.
---
The majority of e-commerce businesses are built in a way that a single storefront tends to the needs of all customers. Though this approach has worked for many companies, it limits the customers and the potential to create personalized content and offers for specific groups.
CustomSoft is a BigCommerce partner that can help businesses simplify their e-commerce journey. Our experience in e-commerce development allows us to work with different types of businesses (B2B, B2C, marketplace), and keep you ahead of the competition, thanks to a combination of skills with modern technologies. We help you deliver exceptional retail experiences on e-commerce platforms that lead to increased measurable business results.
We will end this article with the words of Bren Bellm, BigCommerce's CEO:
Multi-Storefront marks a significant milestone in our platform's ability to serve the most complex use cases and is expected to be the most transformative of our enterprise product enhancements. This powerful new capability gives merchants the flexibility to grow their brand, segment and geographic scope within the scalable context of a single account.