The Covid-19 pandemic has brought the focus on digital commerce. Brick-and-mortar businesses have had to adapt quickly, and an online presence was more important than ever in a rapidly changing market. Today, it has become easier for companies to reach out to their customers anywhere, anytime, and through multiple devices. All these changes have shaped the consumers' expectations and purchasing habits. Every customer interaction matters, so it's essential to develop strategic approaches that offer the best possible experience. Global competition is on the rise and consumer demand is becoming more diverse and specific. The competition between online retailers has never been this heated. A strong digital presence is a must for businesses to deal with the challenges that the current situation brings.
E-commerce has become a fundamental part of the global retail framework. Companies try to attract customers by providing engaging and meaningful user experiences. New technology develops continuously, and there are several e-commerce trends that you need to keep an eye on in 2022. We are going to discuss 10 of them in this article. Adaptation is at the core of all these processes. Taking these trends into account, we can easily say that e-commerce has a bright future in 2022.
---
1. Omnichannel

Omnichannel commerce is a sales approach that focuses on offering a flawless customer experience across online and offline channels. First, let's establish the difference between multichannel and omnichannel commerce. Multichannel commerce provides various ways for businesses to interact with customers (for example, website, social media, email, phone, brick-and-mortar store), but these channels operate separately from one another. Even if these channels don't necessarily work together, they communicate different messages and receive data. Omnichannel provides customers with a cohesive experience during their purchase journey.
The difference between multichannel and omnichannel is that omnichannel commerce connects all channels, which means that your customers will have a seamless shopping experience across all channels. An important aspect to keep in mind is that with omnichannel marketing, you have a consistent and strong message across all channels.


What makes your omnichannel strategy better? In one word, data.


Nowadays, customers have plenty of options when online shopping. Collecting data plays an essential role in the process of upgrading your business because it will help you personalize the shopping experience and create complex customer profiles. This way, you can better respond to unique customer preferences. Omnichannel commerce strategies bring benefits to both the customer, and the businesses.
---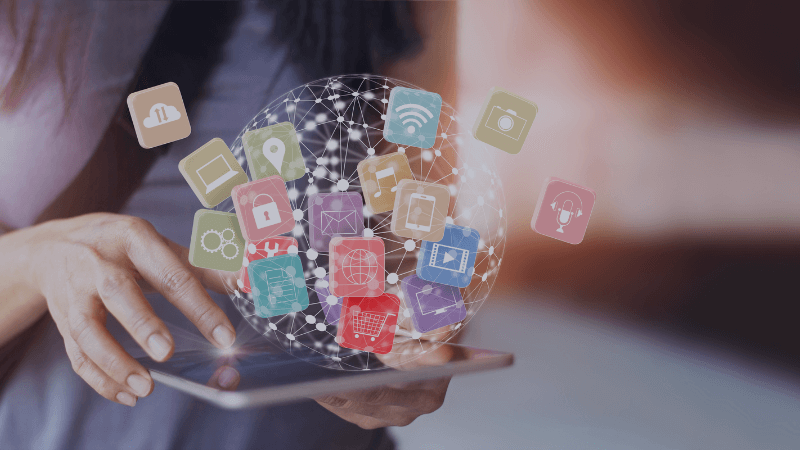 ---
2. Mobile Commerce

According to Statista, there were 6.4 billion smartphone users in the world in 2021, and there are predictions that the number will increase to 6.65 billion by the end of 2022. To make sure that you don't miss out on these potential customers, you must optimize your website for mobile, to ensure that they have a seamless experience.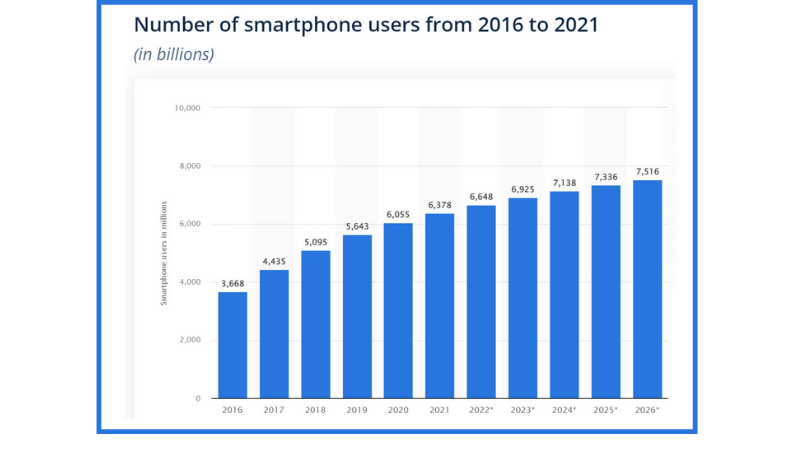 It is uncomfortable to use laptops while moving, and mobile e-commerce has a more straightforward checkout process. Moreover, it allows users to receive personalized push notifications, do convenient online transactions, and, ultimately, it encourages them to place their orders and make purchases using their mobile devices.


How can a retailer connect with its customers in a personalized way?
push notifications;
one-tap checkouts (so the user doesn't have to enter card details for every transaction);
multiple payment methods (so every customer can find something suitable);
AI integrations;
intuitive navigation.

From a business perspective, mobile e-commerce provides you with numerous insights into your customer's online behavior, browsing patterns, and history. You can use this data to boost customer retention and create more personalized offers and recommendations, which increases your conversion rates as well.
Keep in mind that if you won't provide an optimized mobile experience, your competitors will.
---
3. Voice Search

E-commerce is benefitting a lot from the growth of the voice-powered technology. Thanks to Amazon's Alexa and Google Home devices, more users started to get used to voice search. As a result, more people use smart speakers to search for information about products and to make purchases. This means that you have to integrate this technology in your sales strategy.
If you wonder what voice commerce is, it is a technology that helps reduce the end-users' dependence on hardware, and it allows them to search and buy products online by using voice commands.
According to Juniper Research, voice assistant transaction values to grow by over 320% by 2023. Furthermore, the same report says that values via voice assistants will reach $19.4 billion by 2023, rising from just $4.6 billion in 2021. It also predicts that the availability of voice assistant devices with screens will be necessary to increase the monetization of voice assistant commerce services. This happens by improving the efficiency of the checkout process.


What are a few of the advantages of voice commerce?
convenience (customers need only a device with a voice assistant. It allows shopping while doing different activities, and it is hands-free);
speed;
non-stop availability;
personalized experience;
time-saving.
---
4. Augmented Reality and Virtual Reality

While the usage of mobile devices has continuously grown for the past few years, there are some exciting developments in augmented reality (AR) and virtual reality (VR). More retailers are providing their customers with tools that allow them to scan an environment and see how a product would look there. This is a breakthrough because it mimics the in-store experience, and it takes the "try before you buy" approach to the next level.
AR and VR bring benefits for both the customers and the retailers. Customers can save time by trying online before buying and making more informed decisions, and retailers have lower return rates and can save some costs with brick-and-mortar storefronts.
Online stores should leverage this technology because it showcases products better than simple pictures, which gains the trust of customers, and leads to a better shopping experience. The following graph illustrates the number of AR/VR users in the US from 2019 to the predicted number in 2023: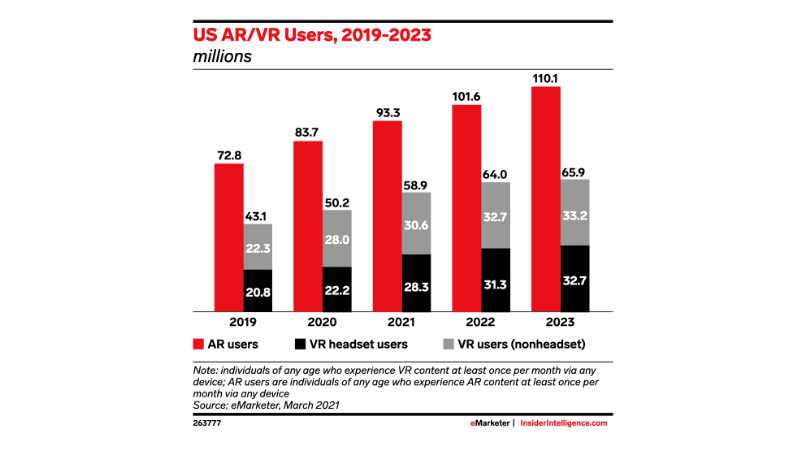 ---
A few examples of how e-commerce businesses are using augmented reality:
virtual try-on (for makeup, clothes, glasses, etc.);
preview placement (for furniture);
interactive user manuals (customers can scan the product and indicate the buttons in the real-life environment using graphical arrows and animations with text).
---
5. Sustainability

Sustainability is an issue becoming more and more present in all industries, and e-commerce makes no exception. A focus on sustainability is already present, especially among younger audiences, but it will undoubtedly grow in 2022. Customers are now looking for brands that align with their values. They want to buy goods from companies that reduce single-use packaging, work towards lowering carbon emissions, recycle, talk about the origins of materials and products, and, in general, give back to the planet.
According to SEMrush, in the past five years, monthly search queries for "Sustainability" have increased tremendously. For example, in the US, the search volume rose from 49.5k in the month of December 2016 to 135K in the month of November 2021. Taking a look at the global situation, the increase is even more impressive, from 164.5K to 724K.
Retailers need to be more conscious about these aspects because they show the increasing sensibilities of consumers towards the environment. Moreover, it is an opportunity for businesses to lean into sustainability, but this does not necessarily mean a financial burden, especially not in the long term. Customers prefer not only environmentally friendly shipping and sustainable fulfillment, but also gravitate towards a sustainable design of fair and durable products.
---
6. Personalization

What is personalization in e-commerce?
E-commerce personalization is a process in which an e-commerce website's users receive personal experiences by dynamically showing product recommendations, offers, content, etc., based on previous actions, such as purchase history, demographics, browsing patterns and other personal data. The result of poor personalization will likely make online shoppers avoid certain sites altogether.
Personalization in e-commerce is one of the main ingredients involved in keeping customers satisfied. According to an analysis based on 700 million global e-commerce sessions, if customers receive the right product recommendation, the in-session purchase rate grows with 70% and the return session purchase rate grows with 55%. The % increase in action is among those who clicked on a product recommendation, compared to those who saw but didn't engage with a product recommendation.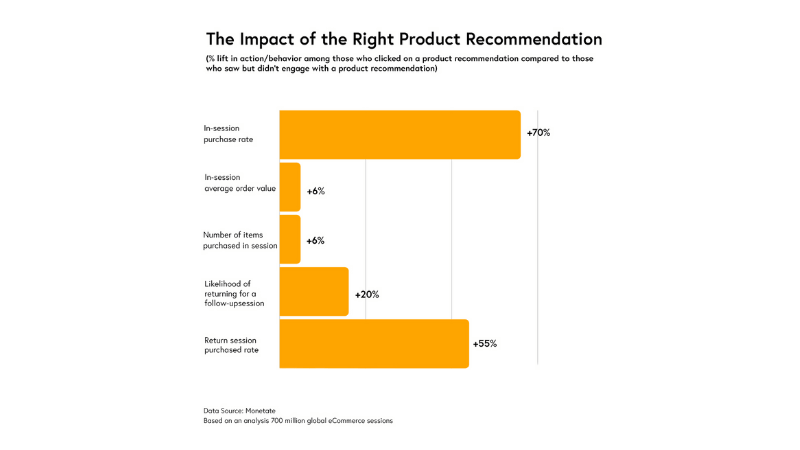 There is no single way to define and do personalization, there are plenty of technologies and steps involved in this process. These are some of the things that we recommend you do with your e-commerce store:
offer personalized product recommendations based on the customer's data;
display recently viewed items;
personalize specific product pages based on the user's location;
create personalized landing pages;
have a personal approach in e-mail marketing;
create campaigns based on user behavior and customer profiles.
---
7. Live Shopping

What is live shopping?
Live shopping is a combination between traditional home shopping TV with video streaming content marketing and influencer marketing. This type of e-commerce has developed a strong presence in the Asian markets, but it is starting to expand. Chinese live shopping sales will probably reach $423 billion by 2022, according to McKinsey. Apparel and fashion products are leading the categories with a 36.6% cut, followed by the beauty sector at only 7.6%.
Live video shopping combines advancements in technology with social media channels and the action of at-home shopping. For customers, it allows them to discover new products, ask questions and get recommendations in real time, get reviews and feedback immediately, which makes it one of the most discussed trends in commerce now. Live shopping is a way that retailers can showcase their products and achieve high-volume sales in a short period of time. Having a platform that acts like an exhibition space with live-streaming support unlocks a great potential for personalization.


Some benefits of live shopping for retailers:
great engagement;
builds brand awareness;
encourages impulsive shopping;
highlights the products that you want to sell (for example, products that you want to clear from your warehouse).
---
8. Artificial Intelligence

Artificial intelligence (AI) has a considerable role in transforming the e-commerce industry by predicting shopping patterns based on the customer's product history and time of buying. Therefore, e-commerce companies use AI and machine learning (ML) to create personalized shopping experiences thanks to predictive search and product shopping recommendations.


Here are 3 major AI applications that are widely used in e-commerce nowadays:
chatbots and virtual shopping assistants: they rely on AI technology, provide non-stop support for shoppers, and are getting more and more intuitive. Customers use chatbots and virtual shopping assistants to search for items they need in human-like conversations. They can ask many questions and provide answers that will help solve the customer's requests. Chatbots and virtual shopping assistants enable a better customer experience;
personalized customer approach: AI helps businesses analyze their customer's experience and interaction with the brand, to make communication more personalized. AI analyzes the history of the customer's interactions, then predicts what the user might want to see and buy. This way, the company can use various approaches to enhance interactions, such as special discounts, congratulations on their birthday, suggestions, etc.;
smart search and product recommendations: sometimes when customers search for products, it can happen that they type the name incorrectly. AI solves this issue by offering autocomplete or hints, so that users only need to click on the option in the search bar. This is a way to make products more visible. Furthermore, AI learns how people look for items they require, buy together, and other relevant information. As a result, AI offers the customers the things that they need, and shorten their search time.
---
9. Buy-now-pay-later (BNPL)

You probably already know about buy-now-pay-later (BNPL). It has become more popular for online stores, especially since the pandemic hit. It works like this: customers buy a product and make payments over time. The payments usually go for three, six, or twelve months, but this is not a rigid rule.


Do you already provide BNPL as a payment method on your e-commerce website? If not, here are a few advantages:
increasing sales (sometimes people want to buy something, but they can't afford the whole value in one payment. BNPL gives them the opportunity to buy now and pay in multiple smaller transactions);
attracting new customers (BNPL attracts people who were not ready to pay the full amount upfront, but can manage with smaller payments);
decreasing cart abandonment rates;
staying competitive;
increased customer lifetime value (customer lifetime value represents the total amount a person spends at your store over their lifetime as a customer).

It is essential for your business that you offer plenty of payment options, to boost customer experience, build trust and decrease cart abandonment rates. If you are still not very convinced about this payment option, here is a graph with the most popular BNPL apps in the UK from January to July 2020, by the number of downloads.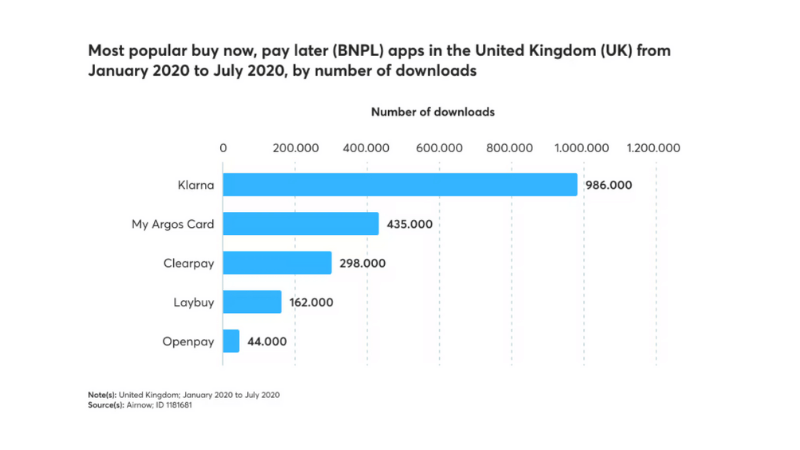 ---
10. Video Marketing

People started consuming more and more video content. Furthermore, video builds trust and increases the engagement level because it is the human form of digital communication. Especially during the pandemic, businesses found themselves in the situation where they needed to adopt new approaches when it comes to sales and customer relationships. At that point, the rise of video consultations started. We are not talking about chatbots, the customers are engaging directly with a sales representative to ask questions and find out more about the products. The sales representative answers the questions, and can also use the product in real-time to show how the product functions and looks.

Some benefits of video marketing:
users pay increased attention to videos (rather than simple text);
higher conversion rates;
increased traffic;
generating more qualified leads;
people are more likely to buy a product after seeing it in a video.
---
In addition to these trends, there are several actions that you should do, such as constantly analyzing the market to establish better strategies, monitoring the industry news, influencers and studying the competition. In the end, the goal of all these e-commerce efforts is more than increasing revenue. It is ultimately to create an easier and more enjoyable shopping experience for customers.
With that said, it is crucial for businesses to stay ahead of the curve and understand that today's trends bring tomorrow's success, so they will thrive in this competitive landscape. We hope that this article has inspired you to prepare for this new year. Here's to a happy and flourishing 2022!
---
In this article, we have mentioned Artificial Intelligence and its role in transforming the e-commerce industry. AI is a topic vert dear to us, so we have prepared a few articles that you will answer some of your questions and bring valuable insights:

– What is artificial intelligence and how does it work;

– What can AI do for your business?;

– How to integrate AI in your business.

Furthermore, take a look at our blog. Here we post regularly interesting articles not only about e-commerce, but B2B, tips & tricks, and other technology as well.