In this article, we want to list you some advantages of e-commerce for your business because there is no doubt that the opportunity of selling online is something that you don't want to miss. First, we would like to show you the state of global retail e-commerce sales worldwide from 2014 to 2021 and the projections from 2022 to 2025, according to Statista. The global retail e-commerce sales reached 4.9 trillion dollars, and they are projected to grow by 50% over the next four years to 7.4 trillion dollars in 2025.
---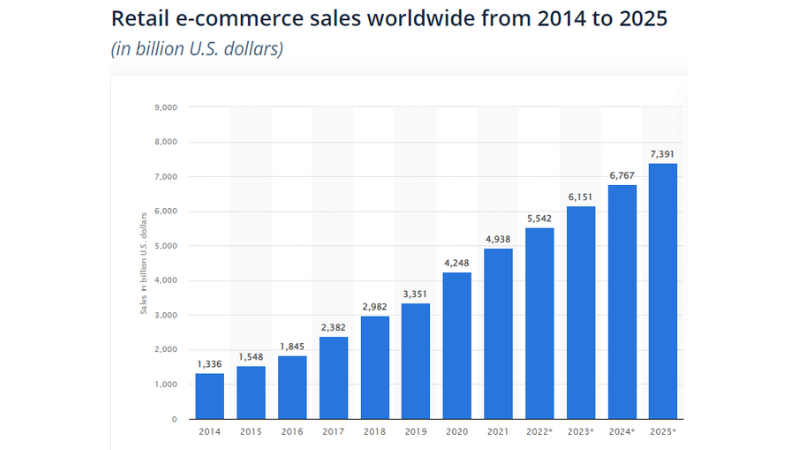 ---
All being said, we have compiled some information that will help you understand the multitude of benefits that e-commerce can bring for your company if you decide to implement it as soon as possible. Keep in mind that e-commerce is not something from the future anymore, it's part of the present of modern business.
---
What are the advantages of e-commerce for retailers?
---
Establishing an Online Presence
More and more people use the Internet to purchase things. Especially since the COVID-19 pandemic started, e-commerce has increased significantly in popularity. You need to differentiate yourself from your competitors, and one of the best ways to do this is to establish an online presence.
How does e-commerce help you establish an online presence? First, an e-commerce platform of your business allows you to present yourself to the world. You can start selling products and telling your story, then you start working towards making your website more popular. Furthermore, e-commerce will help you increase brand awareness. It is important to optimize your website for your audience and use good keywords to appeal to a bigger audience. If you offer a flawless customer experience, people will return to purchase from you, thus strengthen your brand. But it all starts with an e-commerce platform; otherwise your customers wouldn't be able to reach or even find out about you.
---
Overcoming Geographical Barriers
When you have a physical store, you reach a certain number of potential buyers. You're limited to the people in the area, and, at best, people in the city. When you have an e-shop, these limitations disappear. Online shopping is a global phenomenon nowadays, and retailers can profit from this by selling on international markets. In the end, numerous customers are not really interested in where you are located, they care more about other aspects, such as a broad selection of products, low shipping fees, or competitive prices. Thanks to the Internet, you have an additional opportunity for earnings.
Moreover, you can sell online without having a physical store, and this means that you can save a lot of money by choosing a cheap location and having less employees.
---
Attracting New Customers
You want to grow your business and attract new audiences. As we already mentioned, a physical store limits the number of people that can reach you. An online store brings you traffic not just from those who already bought from you, but also from search engines (which is another reason why you should have a strong digital strategy).
How do customers find you? They search for a product that you carry on your website. By having an online store, you already overcome geographical boundaries, so the odds that a person buys from you are greater. Furthermore, the Internet gives your website the visibility to different niche audiences that otherwise you wouldn't have access to.
---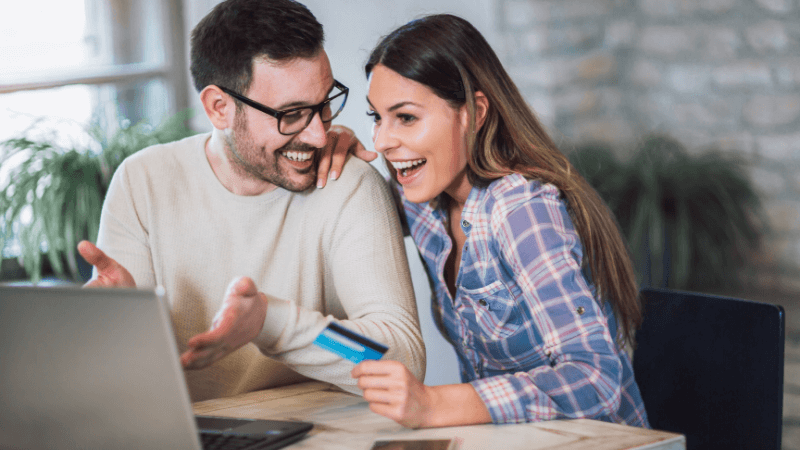 ---
More Flexibility for Your Customers
One of the most important advantages of an e-commerce business is that you offer increased flexibility to your customers. Think of this, your store is open 24/7. This means that your customers will be able to place orders at a convenient time according to their schedule, instead of trying to go to your physical store when it is open.
There are more aspects when it comes to the flexibility for your customers:
more information available for them (each product comes with a description, instructions, pictures, maybe even videos, so the customer will be more informed before making a purchase);
faster and easier buying (customers do not need to wait in line. They simply decide, order and have everything delivered to them, which saves a lot of time that would have been spent travelling to your location, waiting in line, etc.);
bigger range of products (an e-commerce platform does not limit you when it comes to how many products you want to list. This means that you can offer your customers a greater variety to pick from);
easier price comparison (thanks to online price comparators, shoppers can easily find which store sells the product they desire for the lowest price).
---
Gathering Customer Data
When somebody creates an account on your website, they enter some data about themselves. Based on this data and historical data (if the customer has already placed orders), you can create a personalized experience (custom discounts or landing pages, a better recommendation engine based on algorithms that analyze behavior). This information is simply non-accessible through a brick-and-mortar store.
By knowing what your clients like, and based on their stage in the buying journey, you can motivate them to check out new products, bring them back if they abandoned their shopping cart, or remind them about your current offers.
---
E-commerce is a necessity for conducting business in nowadays environment because without it you definitely limit your potential of growth. Luckily, with the right platform you will find that running an online store is not that difficult. E-commerce creates the opportunity for you to have lower costs, reach a greater audience, increase your sales, create a personalized experience, all while being available 24/7.
---
E-commerce has become a fundamental part of the global retail framework. New technology develops continuously, and there are several e-commerce trends that you need to keep an eye on in 2022. We made a list of the top 10 e-commerce trends that will rule in 2022. We hope that our articles inspire you to start working towards maximizing business success.