It's a fact that e-commerce has grown rapidly in the past few years (here you can see the 10 top e-commerce trends for 2022). But now let's discuss B2B and B2B e-commerce. First, let's define it. B2B e-commerce is the type of electronic commerce in which products, information or services are exchanged between businesses. According to GlobeNewswire, the B2B e-commerce market size will grow over 18.70% CAGR (compound annual growth rate) to reach 18.57 trillion USD by 2026.
---
What Are the B2B Trends That Will Rule in 2022?
---
1. Investments in Technology


If we take a look at B2B technology investments, according to a survey by Oro Inc, the vast majority of respondents expect that they will invest in e-commerce platforms in 2022.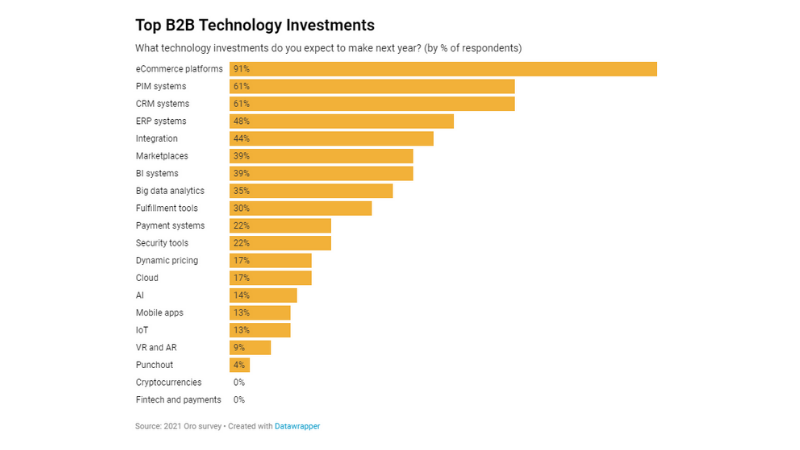 The same survey shows that when selecting the technology, respondents believe that customization and flexibility are the biggest priority, followed by B2B-focused out of the box features.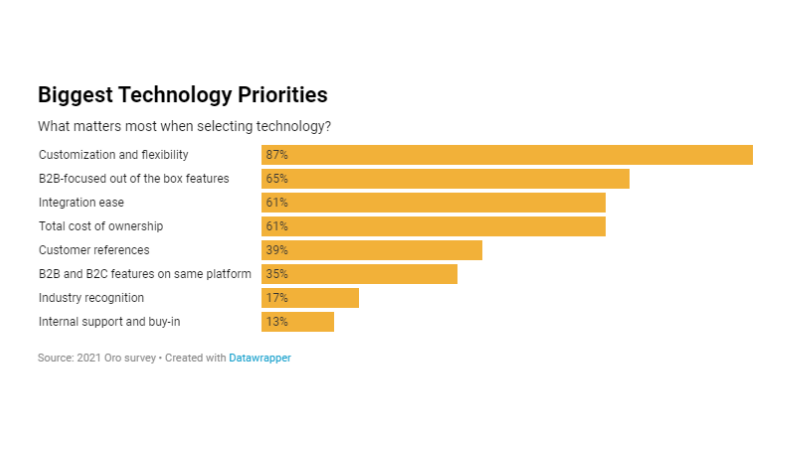 ---
2. Enhanced Personalization and Brand Connection


Offering a unique, personalized experience and having a brand voice is more essential now than ever before, even in B2B. Brand personalization makes your business stand out among other competitors. If customers feel more connected to your brand, you caught their attention, and they tend to choose it when shopping because it reflects their voice, the voice of your target audience in the end. Your company becomes more than a name, a logo and some colours, and the interaction seems more humanized.
Here are four ways to increase e-commerce personalization:
create personalized promotions (based on the client's history);
create personalized homepages or landing pages;
display recently viewed items;
use a good recommendation engine.
---
3. Artificial Intelligence (AI)


AI helps companies understand their customers on a deeper level. Also, it assists teams throughout the customer journey, thanks to targeting tools and tracking technology.
How does AI help a B2B e-commerce company?
Better customer insights;
Customer segmentation;
Programmatic advertising;
Enhanced targeting and segmentation;
Predictive analytics;
Automation.
---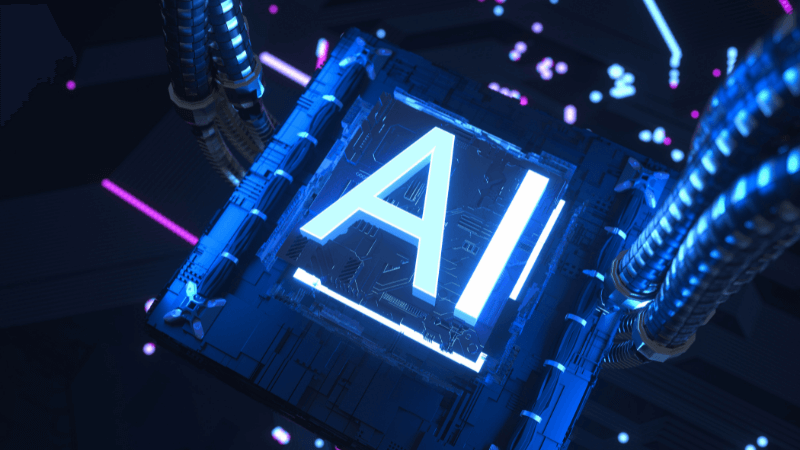 ---
4. Integration of Mobile in Strategies


Let's take a look at some mobile B2B statistics: according to some statistics by Thrive My Way, 77% of B2B customers report that they research carefully before making a purchase, and 35% of B2B organizations expect an increase in online sales in 2022. Also, B2B clients spend 70% of their time online using mobile devices, while half of the B2B searches are performed through smartphones. When it comes to B2B buyers, four out of five of them say they use mobile devices to perform their job responsibilities. User experience is also important for B2B buyers because 90% of mobile users who reach B2B businesses online tell that their user experience influences their choice to purchase.
The B2B customer journey is longer and more complex than the B2C one, so it is essential to design a mobile-focused and user-friendly experience.
According to Earthweb, in 2020 61% of all website visits were from mobile, and 36% were desktop visits. So more than half of all internet traffic comes from mobile devices, and that's why it is essential to ensure that your website is tailored for mobile viewing. Also, as you collect more accurate insights from mobile, you will be able to better target your ideal customer, which brings the opportunity to increase pipeline and revenue.
---
As we move further to 2022, it's clear that you have to shape your strategies according to the latest trends in the industry. Invest in technology, create a connection with the customers, have a mobile-friendly website, create a great customer experience, and don't forget to take up on the opportunity of artificial intelligence. The B2B niche is very competitive, so you must use different tactics to achieve your business goals. Experimentation is part of levelling up, the customers' expectations are changing, and you have to fight to be one step ahead of your competitors.