The Customer
Inmarsat is a leading name in satellite communications services. The company helps customers stay connected all over the world, even in most remote land and sea areas, through specialized terminals that connect to satellites.
In their own words:
Powering global connectivity on land, at sea and in the air, Global Xpress is the world's first high-speed, broadband Ka-band network, from a single operator.
There are hundreds of terminals on the market. It's a serious challenge to provide customer support and guidance for each terminal.
---
The Challenge
In order to configure and use the terminals, customers needed a laptop or a tablet, but beyond that, they needed to deal with the quirks of web administration interfaces designed by each terminal's manufacturer.
Those interfaces could be quite different, lacking a standard and unified way of doing things. Also, functional features were not identical among different terminals as well. Dealing with this variety of problems was a constant source of frustration for the customers.
Inmarsat needed a unified way to configure and control the terminals.
---

I had the pleasure of working with CustomSoft as part of my architect role at Inmarsat. We were looking to build a mobile app that would enhance the satellite terminal usage experience and already had three UK companies bail out after reading our specs. CustomSoft people made it possible. Communication was great throughout the process, as CustomSoft is not afraid to ask all the right questions, early. I look forward to crossing paths with them in the future!
---
The Solution
CustomSoft designed and implemented native Android and iOS mobile applications for configuring and managing terminals in a unified manner. Talking to terminals via AT commands on the WiFi connection, the app became a unique solution that is able to control over 10 of the most popular terminals.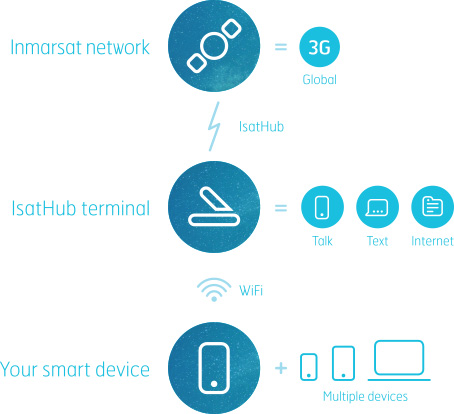 Image courtesy of https://www.inmarsat.com/service/isathub/
On both Android and iOS, this solution greatly improved customers' experience in using Inmarsat services.
---
Ready to accelerate your business' digital transformation with CustomSoft?