The Customer
ShopMania is a price comparison system and, at the same time, a shopping portal that offers consumers a range of free information resources. Their goal is to provide you with a unique shopping experience and help you make smart purchasing decisions.
---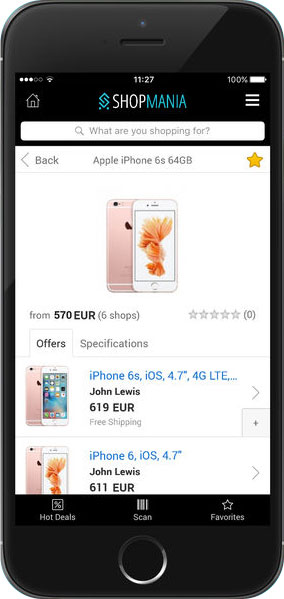 Working with the CustomSoft team for our mobile application was an experience that I can recommend with confidence anytime. Usually, in the sphere of software development, it is difficult to find a flexible partner, fully committed to the project with a good reaction and response time, and high performance of execution. For us, all these things CustomSoft represented in each phase of the project and including now, after completion of the project, we still have flawless support from them.
---
The Challenge
In a world where people search for information online on their mobile devices and more than 90% of the time spent on mobile is consumed in apps the client had to find a way to keep up with consumers behavior and therefore they developed native apps for iOS and Android users.
---
The Solution
CustomSoft designed and implemented native Android, and iOS mobile applications that will help people to get access to exclusive shopping offers, from trusted and verified merchants in their country.
Millions of people worldwide consult this app every month before making their online purchases. Compare prices and offers in thousands of online stores, view the most popular and best-rated products, promotions, discounts, and deals.

The ShopMania app comes packed with features designed to provide you with the most cost-effective shopping experience.
Use this app to:
See the hottest deals from stores in your country
Compare prices by product category
Easily search for products with search filters
Create Wish Lists
Scan products and find better prices online
---
Benefits:
The customer developed two native apps with the same team which helped maintain a good flow in communication in all the project stages.
---
Ready to accelerate your business' digital transformation with CustomSoft?